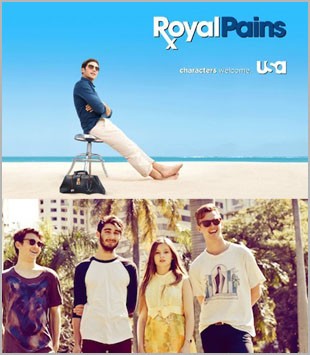 Kicking off an already active summer of syncs, Spirit creatives landed two songs by buzz band San Cisco in key scenes in the season 4 debut of USA Network's popular ROYAL PAINS.
The band's "Girls Do Cry" appears in the medical drama's opening, with an establishing shot of the show's Hamptons, Long Island backdrop. "Golden Revolver" appears later in the episode as two of the primary characters grab lunch.
The two syncs, accompanied by a Spirit-orchestrated campaign to promote awareness for the Australian rockers via the show's website, social sites, and blogs, are the opening salvo in a strategic marketing effort designed to make the band and its songs seem ubiquitous by summer's end.
The indie pop four-piece made up of Jordie Davieson, Josh Biondillo, Nick Gardner, and Scarlett Stevens – all barely into their 20s – have already distinguished themselves at home, charting two singles from their debut EP, 'Golden Revolver,' taking the local music festivals by storm, and taking home eight awards, including Most Popular Act, Breakthrough Act, and Pop Act of the Year at the recent WAMI (West Australian Music) Awards.