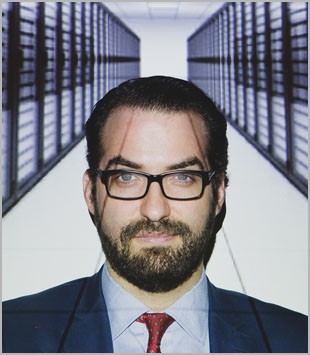 Propelled by non-stop touring, unique social media promotion, strategic sync licenses, and a growing legion of fans, "Dangerous" has topped the alternative rock charts and is crossing over to pop.
The brainchild of Alan Wilkis, a Brooklyn-based writer/producer (and former Spirit exec), Big Data's sound is a haunting mix of slithering electro beats and evocative vocals, its message a subtle (and not-so-subtle) warning about the growing impact of big tech in our lives.
The irresistible "Dangerous", which features lead vocals by Joywave's Dan Armbruster, started life as a self-released single. Growing love from tastemaker blogs and early support from Alt Nation's Jeff Regan, along with a groundbreaking video, helped make the song ubiquitous by winter '13.
The real power of Big Data's music and message began to be realized this past spring as Crush Management and Spirit joined the team and collaborated on jumpstarting radio, video, and web promotion and galvanizing already buzzing fans into an unstoppable street team.
While Crush's Rob Hitt and Capone, along with Windish Agency's Dan Traci, grew love across alt rock radio and pop culture press, Spirit creatives introduced "Dangerous" to a select mix of producers, directors, and supervisors, landing early licenses in feature films like 'Veronica Mars' and 'Earth To Echo', the TV series 'The Big Bang Theory', 'Trophy Wife', 'Graceland', and 'House Of Lies', PlayStation's 'MLB 14: The Show', and a national advert campaign for Taco Bell. All along the way, Team Spirit promoted syncs in real time, leading fans of the films and shows via tweets and social networks to Big Data's sites and digital music stores, organically growing their fan base.
With single sales and socials by midyear signaling the arrival of a career artist, Big Data added critical firepower by signing with Warner Brothers Records, who consider the band a key addition to their burgeoning rock roster. In the meantime, Crush upgraded Big Data's public profile significantly with national television bookings and rave write-ups from both trade and consumer press while Spirit secured another wave of key syncs designed to broaden the band's fan demo, including multi-week promo campaigns for both ABC and NBC TV new-season shows, uses in buzzing dramas 'Revenge' and 'Rush', and a national brand campaign for Hyundai.
The push is now on to bring "Dangeous" to an even wider pop audience in the months ahead. And considering Alan's been collaborating of late with a wish-list of similarly envelope-pushing writer/artists, including Jamie Lidell, Atlas Genius, Twin Shadow, and Kimbra, all signs point to a stellar full length Big Data album in the very near future.