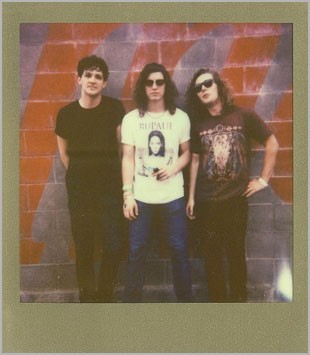 Since signing a deal with Bass Drum Of Death late last year, Spirit creatives have helped the band build a huge buzz through a series of strategic syncs and promo events.
First, placement of the Oxford, MS band's garage stomper "Get Found" in promo trailers for the wildly popular 'MLB 2K12' video game added thousands of fans as they played non-stop on TV and the web.
Then, the use of "Get Found" during a widely watched English Premier League soccer match between Manchester United and Arsenal made a big impression in the U.K. just as the Oxford, MS band was setting out on its first Euro tour.
Soon after, Spirit staff landed "Velvet Itch" in a key scene in Sony's GHOST RIDER 2, actively working fan blogs and social nets to make sure the legion of fans of the Nick Cage-actioner would latch on and become Bass Drum fans too.
And most recently, the band grabbed a headliner slot at Spirit's SXSW showcase – co-sponsored with hip San Fran agency Goodby Silverstein and Doritos – making an indelible impression on Austin fest-goers.
With growing respect for the emotional power within Bass Drum Of Death's thrash pop songs, filmmakers have been increasingly interested in having the band expand into song cycles and score composing, so fans should expect to see all sorts of creative growth through the rest of the year.