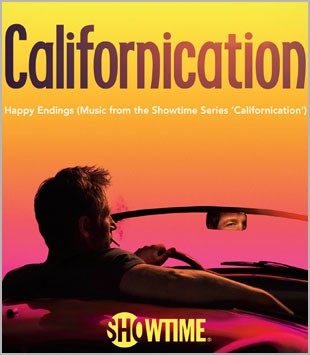 Spirit Music Group is collaborating with Showtime Networks to challenge the way television soundtracks are produced and promoted in the digital era.
The soundtrack for the seventh and final season of acclaimed drama CALIFORNICATION will take the form of a six-song EP curated by longtime show supervisor Nora Felder and show creator Tom Kapinos and feature exclusive music from Pete Townshend and a rare track from The Sex Pistols' Sid Vicious, along with classic '80s and '90s rock covers by such emerging artists as The Coral Sea, Candy Golde, The White Buffalo, and Elsie.
Spirit's and Showtime's social media teams will promote each song as they air via both the show's official web and social sites as well as the most popular fan-driven sites, Twitter, Tumblr, chat rooms, blogs, and other dedicated portals where fans congregate, engaging viewers when they're most excited about the music and leading them directly to stores and artist websites.
The album will be released on April 13, simultaneously with the season premiere, via the publisher's imprint, Spirit Records. Spirit is partnering with TuneCore to distribute the release across all digital download and streaming services worldwide and leverage their close working relationships with digital stores to achieve prominent placement and promotion for the soundtrack throughout the season.
The soundtrack's opening song and first promoted single is a previously unreleased remix of Pete Townshend's biggest solo hit, "Let My Love Open The Door", which serves as main title for the debut episode. The original version serves as the episode's end title.
This will be followed by the promotion of three singles in May: The Coral Sea's psychedelic take on the Pixies' "Where Is My Mind", Candy Golde's rave up version of Paul Simon's "Boy In The Bubble", and Sid Vicious's classic punk cover of Frank Sinatra's "My Way". The Sid Vicious track was produced by Sex Pistols guitarist Steve Jones, who has had a recurring acting role on 'Californication'. Another two will follow in June: The White Buffalo's soulful cover of Faster Pussycat's "House Of Pain" and UK singer/songwriter Elsie's haunting take on Fleetwood Mac's "Silver Springs".
The novel release concept was the brainchild of Spirit's President/CEO Mark Fried and SVP Creative Peter Shane along with Felder, who had long felt that many standard television soundtrack LPs – however thoughtfully compiled – failed to find their audience because TV viewers not targeted at the moment of impact are unlikely to seek out a physical CD or download an entire soundtrack album.
According to Fried, "Spirit has been able to migrate thousands of fans through real-time, organic promotion of high profile sync licenses for years now, helping to build our artists' fan bases and drive sales and streams. We're excited to be working with Showtime to expand this approach to a TV soundtrack, promoting one song at a time throughout the 14 weeks of 'Californication' 's most anticipated season."
Adds Felder: "Music has always been a main character for 'Californication', evenly mixed with both classic and independent artists alike. We are proud to be able to feature and introduce this exclusive remix of Mr. Townshend's track to the world along with some amazing versions of other timeless hits by emerging artists."