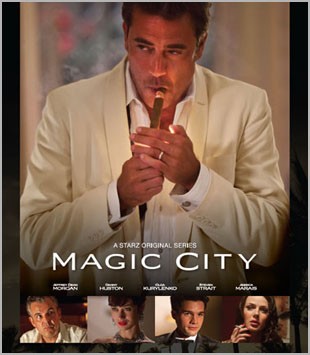 Spirit creatives jumped at the chance to work on the new late-'50s period drama, MAGIC CITY, landing multiple songs in early episodes and helping define the series' musical signature.
The heavily anticipated show, which debuted recently on the Starz network, tells the story of the owners and clientele of a glitzy Miami Beach hotel in an age when titans of business, Hollywood starlets, the mob, and the Feds are all jockeying for position.
Among the songs pitched into the show are the Anita O'Day version of "I'm Not Lonely," an early Marilyn Bergman/Lew Spence collaboration, which made it into the debut episode. Also placed were the Walter Anderley take on the Italian classic "Que sabe voce de mim" (playing in the background in a cabana as a couple of gangsters discuss a botched job) and "There She Is, Miss America", the Bernie Wayne-penned pageant theme.
We expect the episodic drama, already picked up for a full season, will continue to be a strong showcase for a diverse mix of our catalog's standards and classics.