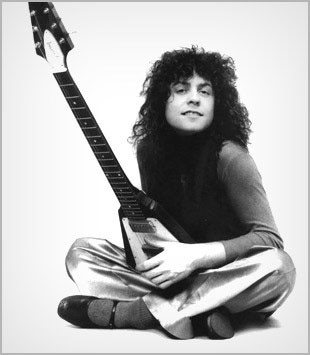 In 2008, Spirit Music Group acquired the publishing rights to the complete post-1971 catalog of glam rock legend Marc Bolan and his band, T. Rex – a period during which the artist sold an estimated 50 million albums and spawned 16 UK charted singles – as well as the original recorded masters from 1972-1977 and the T. Rex trademark rights. The broad rights acquisition included 260 songs and more than 300 original recordings featuring such classics as "Children Of The Revolution," "20th Century Boy," "Metal Guru," "Telegram Sam," "Solid Gold Easy Action," and "I Love To Boogie," and some of Bolan's most iconic images.
While every Spirit deal is uniquely managed from a customized marketing plan built in conjunction with the songwriter/artist and their team, the acquisition of complete rights to T. Rex – in essence a 360 deal for a quintessential classic icon – presented a golden opportunity to fully re-introduce and revitalize the music, image, and life story of an underexploited hero of pop culture with a profoundly rich heritage.
According to Spirit President Mark Fried, "We felt we had both a huge opportunity to remind the world of Marc's influence on a generation of musicians and bring his music back to the forefront of public consciousness as well as a responsibility to be as true to his spirit and sensibilities as possible."
With Bolan's brand having gone largely unpromoted since his tragic death in an auto accident in 1977, Fried and Spirit creative staff went in search of the right partners in media, records, and merch who were, first and foremost, true fans of the man and his music and therefore more likely to explore non-traditional approaches to promote it.
Spirit's brand marketing plan for T. Rex defined the campaign's target market in two categories: the large T. Rex cult fan base that grew up with the music but has been starved for new product, and a 12-18 year-old audience of music consumers discovering decades-old classic rock via video games, apps, and the web. With this in mind, Spirit set out to create a complete program of Marc Bolan and T. Rex branded merchandise, album reissues, new covers, and a wide range of synch placements and media events designed to showcase the songs and highlight the artist's unique sensibilities and his widely influential contributions to popular culture.
With the initial goal of generating placements in high profile film, television, advertising, and new media vehicles, Spirit's synch department, led by Spirit's Vice President Creative Pete Shane, set up hundreds of one-on-one meetings and off-hour house calls with music supervisors, directors, and producers for film, TV, advertising, games, mobile, and other media. Creative executives, many of whom were only aware of the biggest hits, were introduced (or reintroduced) to the depth and breadth of the T. Rex catalog.
Major music supervisors and directors soon came on board and started connecting the creative dots to their projects. This past summer, a groundswell of film and soundtrack placements began with T. Rex songs featured in such films as 'Get Him To The Greek' ("20th Century Boy"), 'Scott Pilgrim vs. The World' ("Teenage Dream"), 'The Extra Man' ("Dandy in the Underworld"), 'Casino Jack: The United States of Money' ("Children of the Revolution"), 'Cemetery Junction' ("20th Century Boy"), and the Cannes Film Festival nominee 'Neds' ("20th Century Boy"). The Sophia Coppola helmed Venice Film Festival winner, 'Somewhere,' released in major cities last December and opened wide in January, features "20th Century Boy" in a key scene as well as on the film's soundtrack abum. To make the individual sync placements pay even greater strategic dividends, Spirit staff worked with film producers to actively promote the use of T. Rex tracks in their projects via artist credit and bios on related film websites and by independently communicating with fan blogs dedicated to the particular films.
At the same time, Spirit approached its friends in the video game space, licensing T. Rex classic "20th Century Boy" into Activision/Blizzard's 'Guitar Hero 5' in fall '09 and into all platforms of MTV/Harmonix's 'Rock Band 3' game, released last Oct. 23. Also in October, Microsoft launched a European TV and radio campaign promoting its big holiday release for the Xbox, 'Fable 3,' featuring a remix of "Children of the Revolution."
In the U.K., where Bolan's legacy still burns brightest, Spirit decided to keep the T. Rex masters with the aggressive indie that had repped the rights for nearly a decade, Demon Records. With a marketing staff of true Bolan fans, Demon had produced a series of smart reissues, adding an album's worth of previously unreleased tracks to each of the original studio LPs. Once Spirit came on board, Demon raised the bar even further, releasing a series of vinyl and digital singles coinciding with their original release some 35 years earlier and producing, via its Edsel imprint, a comprehensive limited edition 8-CD set of previously unreleased demos, unfinished songs, and alternate takes featuring extensive new annotation by Mojo writer and Bolan biographer, Mark Paytress, that came to market last fall.
In the U.S., rather than choose a major label's legacy division to reintroduce the classic T. Rex sides, Fried was determined to find a vested independent label wiling to match Spirit's passion and proactivity and work with them to find non-traditional routes to promote the music. A conversation with Alan Becker, Sr. VP of Product Development for Sony Music's indie distribution arm RED, led to an introduction to Fat Possum, an Oxford, Mississippi-based label best known for helping reignite interest in such classic blues and roots musicians as Junior Kimbrough, R L Burnside, and Townes Van Zandt as well as signing and breaking such acclaimed newer bands as The Black Keys, The Walkmen, and Band of Horses — a perfect combination as Spirit was looking to reach both long time fans that grew up with the music and the youngest generation of rock devotees more likely to trust the tastemakers at indie digital music site Pitchfork than traditional labels and larger commercial websites.
Fat Possum owner Matthew Johnson, an avid T. Rex fan, quickly signed on and jumped in, commissioning state-of-the-art remastering for the six original T. Rex studio albums under Spirit's control, beginning with 'The Slider' – considered the definitive soundtrack to the "T. Rextasy" that swept most corners of the globe in the early 1970s – which was released last October on CD and digital formats and bowed on vinyl in late November.
At the same time, Spirit and Fat Possum decided the best way to introduce Bolan's music organically to the youngest generation of music fans was to identify young artists (in their teens and early twenties themselves) who considered T. Rex a primary influence, invite them to cover a favorite song, and share it directly with their own fans via Facebook, Twitter, and other social networks. Neon Indian, the brainchild of chillwave artist Alan Palomo, who regularly samples or interpolates classic rock tracks into his music, was a logical T. Rex curator. His cover of "Children Of The Revolution" premiered on Pitchfork December 13 and was simultaneously introduced by the artist to his fans via Facebook, Twitter, and other social networks, leading to the hoped-for avalanche of blogosphere traffic in the days that followed. The Smith Westerns, Chicago-based roots rockers signed to Fat Posum whose lo-fi, high reverb songs had already invited frequent comparisons to Marc Bolan, were happy to cover the 1974 hit "Teenage Dream" and plan to follow a similar release strategy this spring when interest in their debut full-length album is high.
Fat Possum plans to release the rest of the original T. Rex studio albums – 'Tanx,' 'Zinc Alloy and the Hidden Riders of Tomorrow,' 'Bolan's Zip Gun,' 'Futuristic Dragon,' and 'Dandy In The Underworld' – in the first quarter. The label also plans to release a T. Rex greatest hits album and a box set, both due in the first half of '11, which will feature rare and previously unreleased tracks.
For merchandise, Spirit first approached Jeri Heiden, a graphic designer responsible for creating indelible t-shirt, concert poster, and album art for such artists as the Eagles, Tom Petty, and Sheryl Crow during a long tenure at Warner Brothers Records, to reimagine the front and back cover art from 'The Slider' (arguably among Bolan's most iconic images) for a line of t-shirts and other licensed products. Designs in hand, the Spirit marketing team met with a handful of merch companies, ultimately choosing Los Angeles-based BandMerch, a company thrilled to add the glam rock pioneer to a roster that already included many bands Bolan had directly influenced and inspired, as an exclusive global partner.
BandMerch is creating and distributing a wide array of T. Rex branded products in various categories, including apparel, accessories, paper goods, and more, and sees broad potential for cross-merchandising the music with the merch, anticipating most of the major record outlets will bring in the initial t-shirt product as well. In U.K. and continental Europe, BandMerch distribution partner LOUD has been busy introducing the new designs to retail, with HMV the first major chain to debut the line throughout its stores.
As might be expected given all the activity generated so far, the return-on-investment for Spirit's T. Rex catalog acquisition is already outperforming expectations, with greater successes anticipated with the full rollout of music, merch, and licensing initiatives. But Fried, who sits with a classic photo of Bolan in his prime watching him over his desk, is just as excited that the brand revitalization orchestrated by Spirit nearly 35 years after his death may help Bolan achieve something that proved elusive during his lifetime: widespread popularity in America.
While having control of the entire asset has certainly helped the company's marketing team maximize its opportunities on behalf of T. Rex, Spirit has evolved its business model so that it's fully brand-focused for all its clients, identifying and maximizing multiple revenue streams in order to keep classic catalogs and the writer/artists behind them relevant and flourishing.