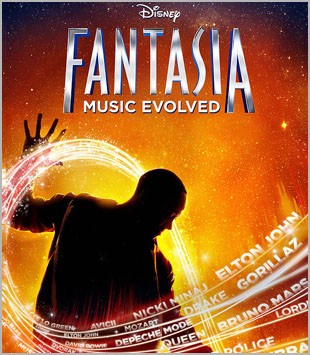 "The Real Me," a classic track from The Who's 'Quadrophenia,' helps define the soundscape in Disney's new immersive video game FANTASIA: MUSIC EVOLVED.
The motion-control game, inspired by the classic animated film from the early '40s, is groundbreaking in that it allows players to build dense worlds by essentially conducting music using their entire bodies.
Spirit creatives worked with Walt Disney Interactive and their partner, Harmonix, for nearly two years in exploring the best way to use classic music by The Who as the primary soundtrack for one of six worlds which make up the game. "The Real Me," a dynamic and powerful track from Pete Townshend's second full-length rock opera, fit the vibe of a world dubbed "The Neighborhood".
As the game developers planned to use both original rock recordings and symphonic interpretations of the songs, allowing players to create new and exciting mash-ups of classic music, the Spirit team was able to introduce a fully-orchestrated concert version of "The Real Me" arranged and produced by UK composer/artist Rachel Fuller. Fuller's complete concert version of 'Quadrophenia' will debut at the Royal Albert Hall next year.
'Fantasia: Music Evolved' is being offered exclusively across the Xbox 360 and Xbox One platforms.